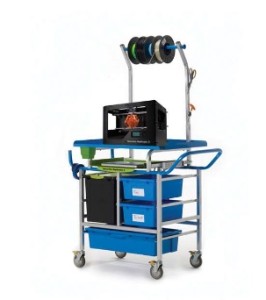 One of the first things you need to do when starting a school or library makerspace is to find the "space".  Sometimes your facility just doesn't have a free room available or you want to start small and test this concept out first.  A good solution would be to start a mobile makerspace, which is also a great concept even if you do have a room available.  This allows a school for exmple to put a maker space in every classroom because maker education involves every subject and every grade.  Mobile makerspaces do come with limitations however and the most obvious one being of limited space.  This is where you need to be creative when making your mobile because you need to pack it as full as possible with maker materials and equipment.  In upcoming posts, I will cover in detail how to start a full size makerspace which gives you the full range of maker education.
If you have a mobile makerspace or have ideas on how to improve one let us know in the comments.  Also, we would love to add your photos to this post so please tag us in your photos on instagram or send us a tweet on twitter @Makerspaces_com
Variants of Mobile Makerspaces
Carts
Van/Truck  
Trailer 
Unique setups 
Examples of Mobile Makerspaces – Carts
Mobile Makerspaces by Dr Brad Gustafson
Examples of Mobile Makerspaces – Van/Trucks
STEAM Truck by Community Guilds
Geekbus – Mobile Makerspace & Classroom
Examples of Mobile Makerspaces – Trailers
Techshop and Fujitsu Launch Mobile Makerspace For Student Education  – Makezine
Examples of Mobile Makerspaces – Unique Setups
Converted Shipping Container Acts as a Portable Maker Space – Springwise
Areas Of Making in a Mobile Makerspace
3D Printing & Design
Lasercutting
Electronics
Robotics
Coding
Video Creation / Playback
Digital Music Production
Textiles & Wearables
Graphic & Web Design
STEM / STEAM Related
Types of Carts For a Mobile Makerspace
3D Printer Cart (Copernicus)
Rolling Storage Cart  (Smith System)
Equipment in a Mobile Makerspace
3D Printer Guide –  (Hubs.com)
3D Printer Cart 
3D Printing Pen – (The3Doodler.com)
Digitizer 3D Scanner – (Makerbot.com)
CNC Machine
Computer
Lasercutter – Full Spectrum Laser   Epilog Laser   Glowforge
Tablet Computer
Soldering Iron 30w – Sparkfun 
Photo and Video Cameras
Dremel Tools – Rotary tools
Silk Screen
Sewing Machine
Vinyl cutter
Maker Materials
Inventables – The hardware store for designers and makerspaces
Raspberry Pi Collection – (Makershed.com)
Raspberry Pi 1 Model B Starter Pack – (Adafruit.com)
Arduino Starter Kit – (Arduino.cc)
Starter Pack For Arduino – (Adafruit.com)
Makey Makey Kit – (Makeymakey.com)
Little Bits Kit – (Littlebits.cc)
Michaels – Crafting Materials
Shapeways – 3D Printing Materials 
Makerbot Shop – 3D printer filament, extruder, parts
Matter Hackers – 3D Printing filament, printers, parts
Smooth On – Mold Making & Casting Material
Legos – Education
Paper Circuits / Circuit Stickers – Chibitronics
Robotics
Vex Robotics – Educational Robotic Kits
Dash & Dot – Robot that brings coding & STEM to life
Ozobot –  Tiny tinker robot makes block based programming fun
mBot – STEM Educational Robot Kit for Kids
Makeblock – Open Source Arduino based robot building platform
Sphero –  SPRK Edition will inspire a love of robotics, coding, and STEM
3D Modeling Software For 3D Printing
Solidworks (Solidworks.com)
AutoCAD (Autodesk.com)
123D Design (123dapp.com)
Autodesk Inventor (Autodesk.com)
TinkerCAD (Tinkercad.com)
Sketchup MAKE (Sketchup.com)
3D Slash (3dslash.net)
Fusion 360 by Autodesk (Autodesk.com)
Zbrush by Pixologic (Pixologic.com)
Blender (Blender.org)
OpenSCAD (Openscad.org)
Sources For 3D Printable Models
Types of 3D Printers
3D Printer Guide –  (Hubs.com)
Make's Digital Fabrication Shootout
Maker Education
Makerbot in the classroom – an introduction to 3D Printing and 3D Design
Getting Started with Arduino on Windows – from Arduino.cc
Coding in the classroom with Dash & Dot – Special educators website brings STEM to life
Maker Projects
Khan Academy  ( STEM Projects ) – Hands on engineering and robotic projects
Make it @ Your Library – Powered by instructables.  Makerspace Projects for your school or library
Instructables – Maker and DIY projects.
Makezine – The website of Make Magazine and Maker Faire.  Makerspace Projects
DIY.org – A community for kids to learn skills, & make things
Hackaday – Is a Platform for people who like to build things
Club Craftsman – DIY Projects, Instructions and How To from Craftsman
Articles Relating To Mobile Makerspaces
Mobile Makerspaces by Dr Brad Gustafson
VIDEO – Mobile Makerspaces in Action by Dr Brad Gustafson
VIDEO – Mobile Makerspace Carts – Youtube
Techshop and Fujitsu to Launch a Mobile Makerspace
Beyond School Bells – New Maker Lab Just Unveiled In Nebraska