Our Newest 3D Printer – 3Dwox by Sindoh
Later this year we are launching a new site at 3DPrintables.com and it will focus on 3D Printable STEM projects.  One of the 3D printers we will be using for printing these projects will be the 3Dwox DP200 by Sindoh (pictured here in our makerspace).  In case you are in the market for a 3d printer we wanted to give you a breakdown of the 3Dwox.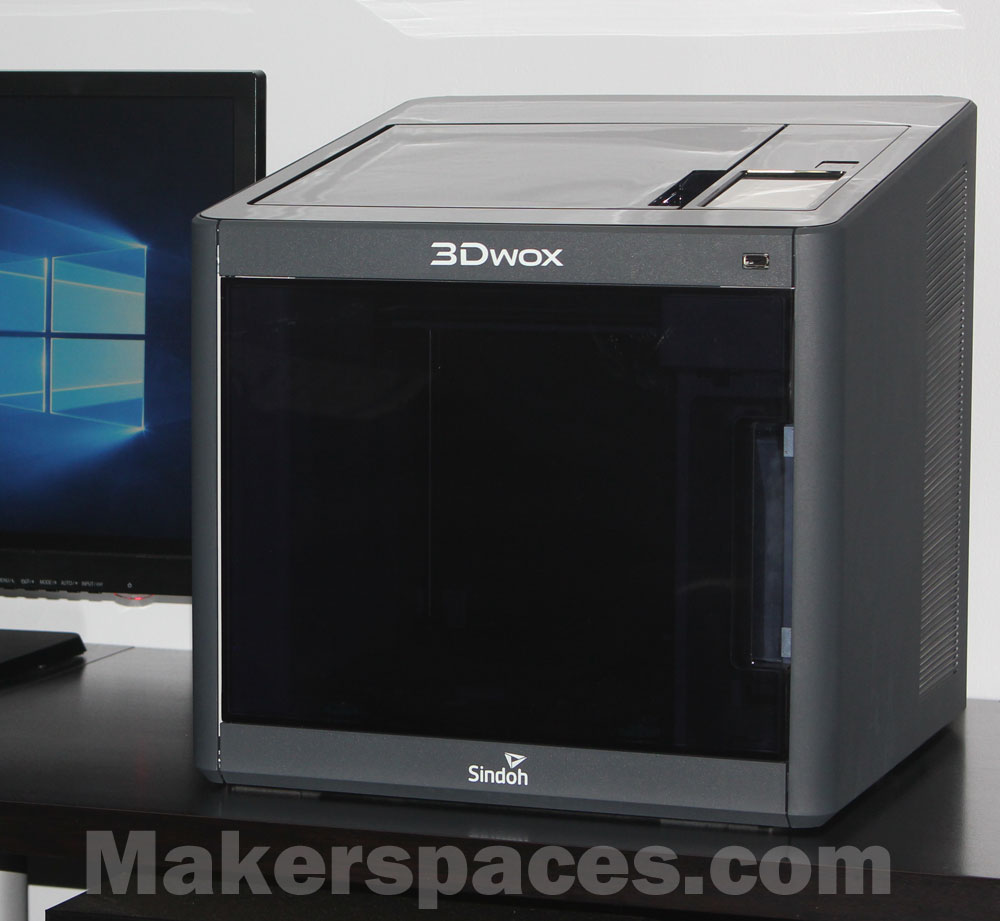 There are a lot of 3D printer brands out there that we like and we will be adding a few of them to our makerspace in order to test them out and report the results to you.  We get asked quite often what is the best 3D printer for an educational makerspace and we wanted to find out.
As stated earlier, the first 3D printer we are testing out in our makerspace is the 3Dwox DP200 by Sindoh
Quick First Impressions – Super easy setup.  The detailed user instructions had me printing in 15 minutes from the moment it was out of the box.  Good looking form factor.  The filament auto loading took less then 20 seconds and it just required inserting the filament cartridge.  The machine keeps the build plate and nozzle slightly warm (when turned on) which enables printing at a moments notice.  Leveling the print bed is easy thanks to the 3Dwox guidance system that assists you.  It has a very handy internal camera for watching the printing process on your smartphone which was really cool.  I printed out a wrench from Thingiverse and the print quality was outstanding on the very FIRST print with no tuning adjustments.  There are 3 modes which allow you to adjust resolution.  The higher quality mode did take longer which is expected.  Lastly, it was nice to have a completely enclosed printer for safety reasons and heat retention.  I can honestly say this is a solid printer with no issues.  My only concern is with Sindoh using a filament cartridge and not off the shelf filament.  But if you have young or inexperienced makers, the fact that it loads filament so effortlessly makes it truly worth it.
Besides the great print quality, one of the top things I love about this unit is the fact that it looks great on a workbench or desk.  I'm personally a huge fan of companies that pay extra attention to both FORM and FUNCTION.  If there are two products for sale and they both work identical, I'm buying the one that looks the best.  The 3Dwox definitely looks great.  After doing some research on the company that manufactured it, I came to understand why it looks so polished.  Sindoh has been around for more than 50 years producing 2D printers, copy and fax machines in Korea since the 1960's.
Product Features:
Internal monitoring camera for remote viewing of build tray via smartphone or PC.
LCD touch screen equipped with full color menu – 5″screen
Auto-loading filament cartridge which loads and unloads filament. Insert a cartridge and the printer will do the rest.
Assisted bed leveling system.  Printer will calculate and assist user by automatically measuring the print bed
Connectivity options include – WiFi wireless, Ethernet, USB cable or flash drive
Enclosed printing chamber for temperature regulation and noise reduction
Compatible with Microsoft Windows 7 and higher / Apple Mac OSX 10.10 & above
Smart Slicer Program – 3Dwox situates the supporting plank, prints face up or down, and analyzes and configures the optimal printing option to fit the user's need.

PLA and ABS material compatible 

Solidworks integrates directly with 3Dwox for seamless operation
3Dwox Specs:
[table id=2 /]
Print Monitoring via Built in Camera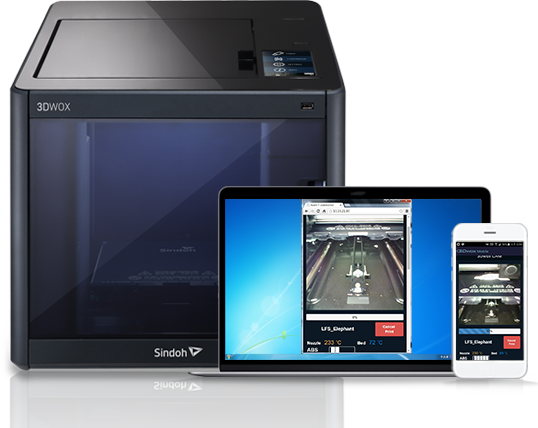 Assisted Print Bed Leveling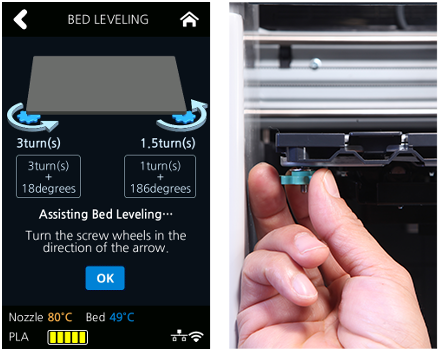 Auto Loading Filament
Scraper, Cables, Filament and Guide Included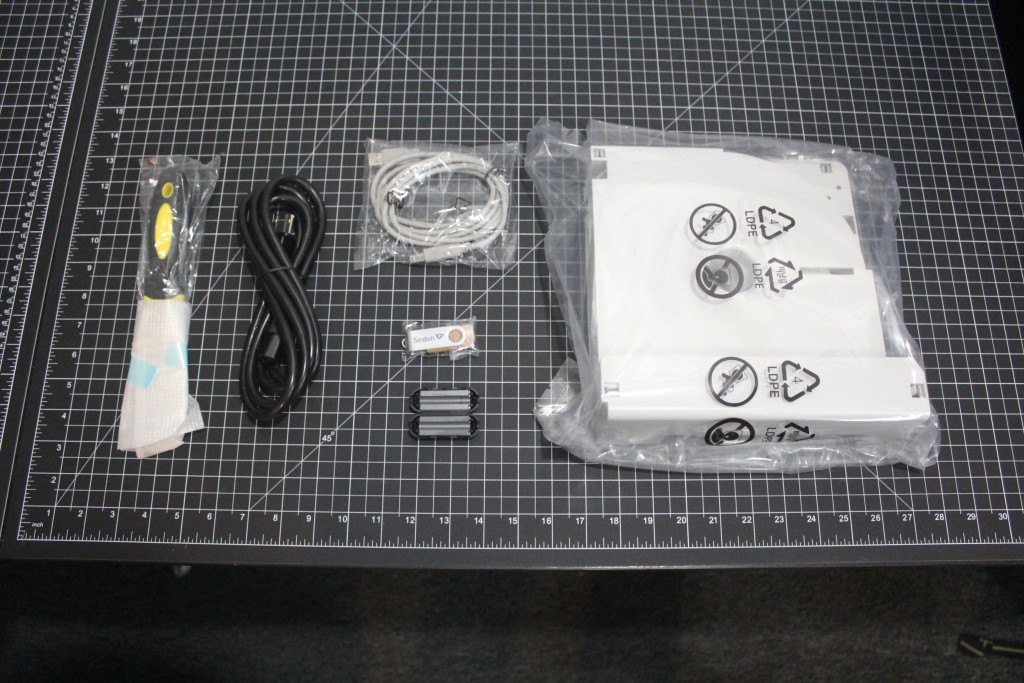 VIDEO – 3Dwox Quick Start Video
VIDEO – Loading/Unloading Filament
VIDEO – Bed Leveling
VIDEO – Solidworks Integrates with 3DWox
More video tutorials from Sindoh
Keep an eye on 3DPrintables.com as we will be using this printer to bring some really cool STEM projects to life.
Learn about starting and running a makerspace
Follow us on Twitter and learn how to bring maker education into the classroom or library.   Get makerspace ideas, find STEM projects, learn about 3D printing, get info on project based learning (PBL) and much more from the top maker educators in the world.